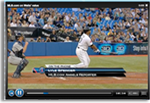 We've already gone over MLB.com's feature-laden MLB.TV online package, and on Monday came word that some of that content will be integrated into CBSSports.com's Baseball Commissioner fantasy leagues.
Clearly the use of in-game video that we saw executed so effectively by NFL.com's fantasy football game last fall is going to become the standard across all fantasy sports, if for no other reason than the fact that it gives fantasy sports providers a chance to upsell their products. The video in the NFL game was free, but don't be surprised if they start charging for it next season.
Baseball Commissioner is CBSSports.com's fee-based fantasy baseball option. Registering a league there will run you $159.99 through February and $179.99 after that. And that's not per player, that's for the whole league. Split that 12 ways and it's $13 or $15 per person. Not a bad deal.
CBSSports.com offers free games as well, and frankly my sense is a lot of people probably don't want to pay for a fantasy sports site since free options are readily available. But the addition of this content from MLB.com gives you some incentive to open the wallet. You'll get in-game highlights on your league's live scoring page, and all of the individual player pages will have video added to them. So when you're looking at players and trying to figure out if you want to add or trade for someone, you can check out his highlights along with his stats. In addition, you'll get MLB Game Audio, giving you the home and road radio broadcasts of every game.
One thing to keep an eye on is how quickly the in-game highlights are available. In the NFL.com game, they added video clips to the fantasy site roughly at the end of each quarter of games. MLB.com is saying that in-game highlights will be added "moments" after they happen. The faster the better.
Again, the web is changing the way we consume sports — the real ones and the fantasy ones.
Like this post? You may also like these:
Leave a Comment
WEEKLY PODCASTS
New podcasts available every Wednesday!

Subscribe via iTunes



TSC is now on Stitcher!
Listen on your iPhone, Android, and BlackBerry